PELICAN LAKE— For most residents here, a sense of security is an important part of their quality of life in the North Country. Which is why a growing number of them are looking for solutions to a rash of home burglaries and thefts that have shaken their longstanding feelings of safety.
"It's just getting out of control," said Mary Gabrielson, who along with her husband Nels, recently lost two new doors that they had purchased to hang on a workshop that they have been building. They set the doors inside the unfinished building on a Friday night with the intent of hanging them the next morning. But when they showed up early on Saturday, both doors, with an estimated value of about $350, were gone.
The missing doors, it turns out, were a somewhat unusual target. "A lot of the things stolen are chainsaws, tools, boat motors, etc.," according to Orr City Clerk Cheri Carter. "It's not big-ticket items, and they're things that probably seem 'petty' to the county sheriff, but not to everyone who has to replace a chainsaw or boat motor."
While perception of crime can sometimes be exaggerated, it's clear that the Pelican Lake area has seen a spike in reported thefts and burglaries in 2019. Residents of Leiding Township, which encompasses the bulk of Pelican Lake, reported just four burglaries or thefts in all of 2018, according to data from the St. Louis County Sheriff's Office. By contrast, residents have reported eight such incidents so far this year, with at least six since May.
Unofficially, the number of incidents is substantially higher. "It sounds like at least 28 people have reported thefts recently," said Carter. The sheriff's office notes that people may report incidents to neighbors and friends, but don't always file reports with the sheriff, so many such cases don't make it into official crime statistics.
Often, people don't report such crimes because they figure there's little the police can do. Gabrielson said she and her husband did report the theft of their doors and were pleased with the prompt response from a sheriff's deputy in the area. "But I don't expect to get them back," she said, noting that law enforcement in the area is "spread pretty thin."
Sometimes, however, law enforcement catches a break with help from the public— and a recent call from a local resident who spotted a suspicious vehicle speeding from a neighbor's residence was one such example. Dennis Cote said he was enjoying a morning cup of coffee from his front porch when he spotted the vehicle, an older red Chevy Blazer with a blown out back window and called it in.
Sheriff's Deputy Mark Haselow was in the area and responded quickly. He encountered the vehicle and pulled the three occupants over, finding a stash of copper wire they had taken from a pile of wire outside Cote's neighbor's residence.
The three individuals, Nathan and Cody Telega, and Aaron Sampson, all in their late 20s or early 30s, had apparently fled the scene before taking enough wire to constitute a felony, according to Supervising Deputy Shannon Schultz, in Hibbing. So Haselow issued the three men misdemeanor theft citations, impounded the vehicle they were driving, and made arrangements to have the wire returned to its rightful owner.
The three are scheduled for a court appearance on Aug. 12.
Cote said he hasn't experienced any break-ins or thefts yet, but he said other neighbors haven't been so lucky.
"It's getting to be a problem," said Cote, who has recently installed security cameras surrounding his house. Other neighbors on his once quiet and safe road have done the same, he said.

Solutions
Residents of the area are also exploring the creation of a neighborhood watch effort to try to keep a closer eye on suspicious activity. Orr Mayor Joel Astleford told members of the Orr City Council earlier this month that he had been approached by several people interested in setting up a watch and the council gave its okay for the city to explore the idea. Carter said she'd be contacting the county sheriff's office to learn more about what's involved in establishing such a program. She said it isn't expected to cost the city any money. "It's just getting people who are willing to do it," she said. "They have to be trained on how to respond… it can't just be a vigilante group."
Cote said he likes the idea of a neighborhood watch, although he acknowledges it may take time to establish. "The thing with the watch is pretty much everyone here knows everyone."
"People recognize when someone is unfamiliar or suspicious," said Cote. "The more pairs of eyes watching, the better."
Deputy Schultz agrees that the public has an important role to play. "The public is definitely our best partner. They have many sets of eyes."

Lack of consequences?
Some of those concerned by the recent break-ins expressed frustration that those responsible for the violations rarely seem to face serious consequences for their actions. "Everyone knows who is doing this," said Carter, who fears that the lack of serious consequences in many cases discourages people from reporting break-ins or offering information out of concern for possible retaliation. "That's especially since they end up back on the streets right away," stated Carter.
But at least a couple of those suspects may be out of commission for a while, thanks again to a tip from an alert resident and a prompt response by law enforcement. Walter Tobias "Toby" Lund, age 62, and Justin Robert Francke, age 38, both remained in the St. Louis County Jail as of Wednesday this week after their arrest for burglary at an Orr area residence on July 8. A third suspect in the case, Sheila Rose Licht, was arrested on an outstanding warrant from Carlton County.
Orr area resident Leon Schultz reported the incident to law enforcement shortly before 2 a.m., noting that he had seen Lund walk across the property where he was staying. Schultz knew Lund and was aware that he was the subject of a restraining order prohibiting him from being on the property. Schultz later reported that Lund and a second male were moving through buildings on the property with flashlights.
Deputies arrived on the scene at 2:22 a.m. and located Francke, taking him into custody. They found Licht lying on the front seat of a pickup truck that Francke and Lund had apparently driven to the property. Lund apparently gave deputies the slip, but they issued a warrant for his arrest. He was later arrested and booked into the county jail on July 12.
The deputies found a number of stolen goods in the pickup, including a chain saw, tools, a bicycle, and a bag of frozen items— all of which the owner of the property identified as her possessions. The deputies also found that the vehicle they were driving was unregistered in Minnesota and that the license plates had apparently been switched from a Pontiac Grand Prix registered to a woman in Virginia.
Both Lund and Francke now face a felony burglary charge and Lund faces a gross misdemeanor charge for violating a restraining order. Francke faces a second felony count for fifth-degree possession of a "not small amount" of illegal drugs and a gross misdemeanor charge for evading motor vehicle taxes, along with two misdemeanor traffic citations.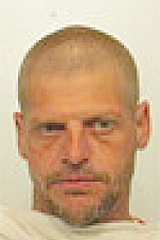 Justin Francke (above)
Toby Lund (below)